Sliding doors save valuable space
Sliding doors or sliders are perfect for space saving in situations where a swinging or hinged door might get in the way. Sliding glass doors let the light in, maximise the view and have a well earned reputation for creating the perfect indoor outdoor flow.
Sliding doors upto 12 metres wide
All of our sliding glass doors are constructed with a high performance roller track system that glides smoothly and quietly into place. They are available in a range of configurations, from a single wooden sliding door, to multi sliding glass doors up to 12 metres wide, which require additional steel reinforcement.
Whisper quiet, smooth sliders
For commercial projects, we can quote off-plan and attend site visits to conduct an accurate measure. We can also instruct your team on what to expect and the best way to accommodate the doors in your build space. CT Timber Joinery generally uses Western red cedar in our sliders, with a choice of single or double glazing. There are of course many other options available, if you want to create truly bespoke timber sliding doors.
Some of our most popular sliding door options
CT Timber Joinery manufactures stacking sliding doors which consist of a set of door panels, mounted on sliding tracks, that slide horizontally to open and can stack to one or both sides of an opening. Optional fixed or awning hung windows above the doors are available.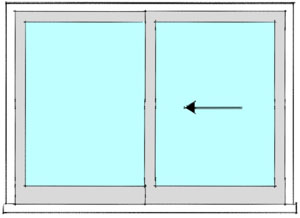 Two leaf slider 1 door fixed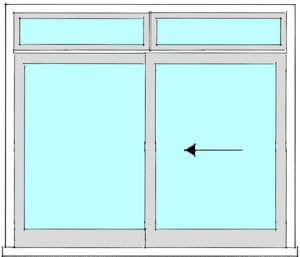 Two leaf slider 1 door fixed with top lites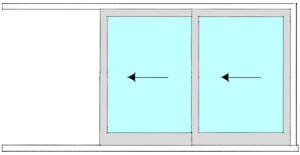 Two door leaf over wall slider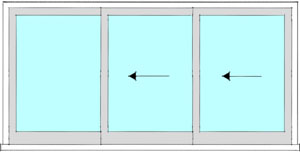 One door leaf over wall slider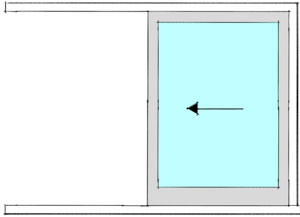 Four leaf slider 2 doors fixed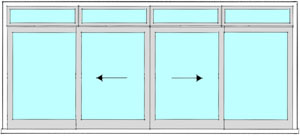 Four leaf slider 2 door fixed with top lites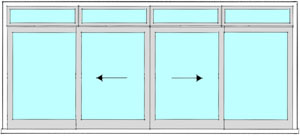 Four leaf slider 1 door fixed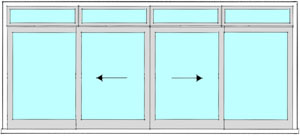 Four leaf slider 1 door fixed with top lites
Your joinery will need to be installed by a qualified builder. If you need help installing your joinery, our experienced Project Managers may be able to recommend someone suitable. Your glazing can be measured, manufactured and installed by our factory glazer once the joinery is installed, please read our glazing options below.
As a rule, CT Timber Joinery pre-primes all timber joinery before it leaves the factory, unless you have requested a clear finish for wood you plan to stain or protect otherwise. We do this to protect the wood from moisture ingress during the period between supply and installation. Pre-priming simplifies your painting process as our doors and windows won't require an undercoat but will require a minimum of 2 top coats of paint.
After ensuring the wood is completely dry and free from dust and dirt, we apply the timber primer – a modified alkyd based pigmented sealer designed specifically for wooden joinery. It's formulated for excellent adhesion and coverage and will provide you with the best possible surface for your top coating needs. For additional short term moisture protection, we also apply an ACE 121 timber preservative to all wood end grains.
We are joiners. We specialise in the manufacture of timber windows and doors, many of which will require glazing. At our highly sophisticated Auckland manufacturing plant we have an independent glazer on site who can measure and install your glass. If you would like a quote for glazing please ensure you request this when briefing us.
Due to the weight of most finished products, our glazer normally measures the glass once the custom joinery is made. He then installs it after your builder has fitted the wooden frames. You do of course have the option to work with your own glazer if you prefer.
CT Timber Joinery use the following standard glazing materials but there are many other options available:
Single Glazing 6.38mm laminated

Double Glazing 4mm toughened either side with a 12mm spacer for 58mm thick joinery

Double Glazing 4mm toughened either side with a 10mm spacer for 44mm thick joinery
Other glazing options available include, but are not limited to:
Clear annealed glass

5mm options glass

6.38mm glass

Low E Laminate

Sound stop

Opalite (frosted)

Clear Stippolyte/Mistlite/Cathedral

Clear Stippolyte/Mistlite/Cathedral Toughened

Argon Gas filling
Auckland's Most Experienced Joiners
If you're looking for custom made timber joinery, you won't find a better, more experienced team than CT Timber Joinery. Guaranteed Quality & Craftsmanship
As Master Joiners we take pride in our work and guarantee the craftsmanship of all manufactured product with a 10 year guarantee. Our ever increasing number of happy clients are testament to the workmanship and enduring quality.
Learn More
"I have been working with CT Joinery for the last 8 years. They were recommended to me by another builder. The company has always provided good quality internal and external doors and window. I don't shop around when pricing joinery. I go straight to CT Joinery. Since Stu has come on board working with CT Joinery has become a easies working relationship. The plans and sizing is very clear for my team to frame up openings once and the joinery fits every time. I recommend to other builders to try for themselves.

BARRIE SWARBRICK
"CT Joinery are a pleasure to work with, we have used them on a large scale New build in Torbay and they were great from the quoting/site measure and even delivering the joinery 2 weeks prior to when we needed it. We have since used them on many other projects. Highly recommend Stu and the lads at CT Joinery. Experts in their field of delivering top quality joinery from start to finish

MELVIN RILEY